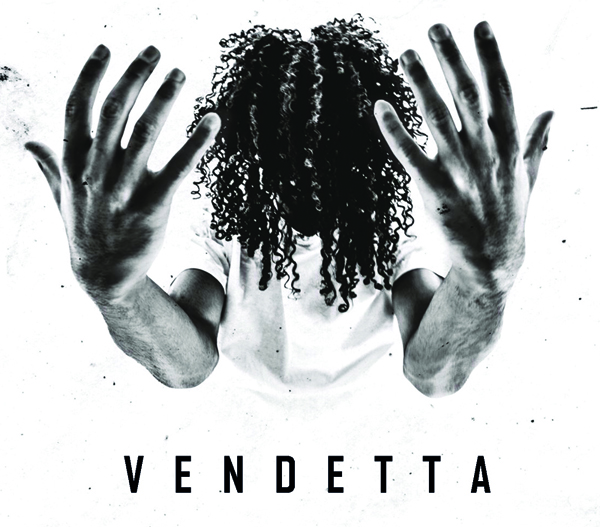 "A jewel that plays on the details"
Philippe Verrièle
dansercanalhistorique.fr

"[...] For a competitor of Le Juste Debout, the famous hip-hop dance competition, you have to show a certain spirit of contradiction starting with a very long sequence on your back, in a quasi-fetal position, in a twilight filled with vibrating music...

And, with remarkably controlled slowness, they draw out a variation that sees the dancers do in several minutes what speed allows them to usually perform in a few seconds. It takes about ten minutes for Link to finally stand up and address the audience. The piece will alternate between speaking and variations of a mastery that is all the more dizzying, exploiting complex resources of absolute slow motion. Hip hop then becomes a way of asceticism, a truly fascinating metaphysical yoga.

We must therefore read this exceptional way of deconstructing hip hop through its very virtuosity, defying everything about it that is spectacular as a tribute to this modern and contemporary dance which Link was brought up on. The one we saw, in 2009, in Vendetta Mathea's Animal Man, which was also in Avignon, but at the end of his training, certainly acquired the sumptuous mastery of a technique, but he proves that he can detach himself from it and that he is not duped or taken prisoner.

"Do not miss the prodigy!"
Emmanuel Serafini
lebruitduoff.com

"[...] has many physical qualities and also a propensity not to talk about what dancers normally talk about... even if the subject of what he's talking about, family introspection, is not new, his dance has something fluid, relaxed, about it to a point that everything seems to be made on a breath, an idea of movement...

"Vendetta" is his story, that of a transition between being an over-trained battle dancer, over-exploited by these dance battles, who understands that if he wants to go further he will have to pace himself… Bingo! He stops forcing it and it comes to him. There is a little capoeira in his dance even though he has never done it. You might imagine a type of yoga, but there is none. Just a slow movement, occupying space alone, without the artifice of music that would justify a special beat...
So, go and see him. He must be one of the only Off festival artists to offer a meeting in his time slot and not to ritually say 'If you liked it tell your friends'... no, he has a pure heart, devoid of mercenary concerns... when you are told that he is unique, don't miss him!

Work In Progress

Bordeaux France > March 23, 2018 > Le Performance Cie Révolution
Dornbirn Austria > Juue 15 & 16, 2018 > Tanzist Festival
Amsterdam Nederland > August 18, 2018 > Festival SummerDance Forever
Göteborg Sweden > August 19, 2018 > Tract Dance Tour
Härryda Sweden > August 21, 2018 > Tract Dance Tour
Uddevalla Sweden > August 23, 2018 > Tract Dance Tour
Denver USA > August 31, 2018 > Block Party 1750
Naucelles France > May 24, 2019 > La Fabrique au Parapluie

Creation

Festival Off d'Avignon - Théâtre Golovine > July 5 to 26, 2019
25th Kalamata International Dance Festival - Grèce > July 28, 2019
Festival Detours - Bruxelles > September 19, 2019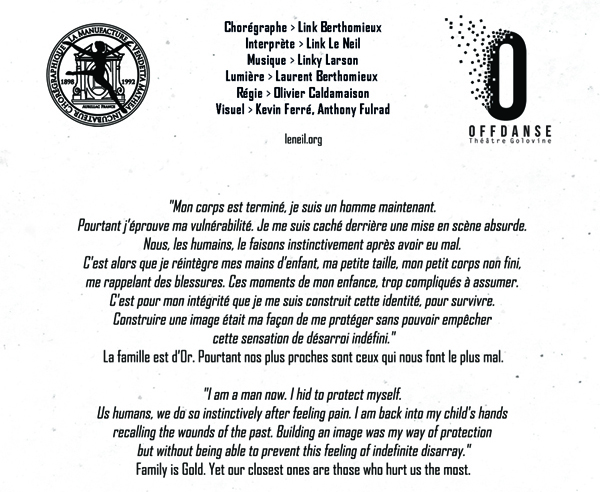 Pro info > Media, photos and contacts


Cie Le Neil

Le Neil Dance Company is the result of Link Berthomieux's many experiences in companies as an interpreter and choreographer, in battles, around the founding of Wynkl non-profit organization for the dancer's fulfillment. In residence at La Manufacture Aurillac France.
Le Neil develops a sober and mixed writing, using a contemporary approach with a hip-hop foundation.

Trained at La Manufacture directed by Vendetta Mathea in Aurillac, Link Berthomieux evolves in contact with different styles of dance from contemporary to hip hop through ballet and jazz. From this advanced multidisciplinary professional training in dance, he draws an excellent technique and mastery of the qualities of the movement. Winner of multiple battles and Hip Hop events, interpreter of choreographic pieces performed around the world, composer and self-taught visual artist, Link Berthomieux develops a particular choreographic writing, very personal especially in the report to the ground.
Pro infos > Media, photos and contacts





After avant-premiere Q&A - Interview Stefani Sarah - Amsterdam - August 18, 2018




contact